At their first fundraiser ever, Code Platoon exceeded expectations by raising over $75,000 for this Chicago based nonprofit. Read below to learn about what Code Platoon does, and how DRW employees got involved.
Since its inception, Code Platoon has made it their mission to transform the lives of veterans. By giving them the skills to become full stack web developers, they become eligible for full time internships at a variety of companies around Chicago, including DRW.
Hosted at the Lyric Opera House building, our CIO, Seth, emphasized that not only was the event a fundraiser, but also a celebration of the success Code Platoon has had their first three years. Serving on the board of Code Platoon, Seth pointed out that not only has retention of their students in internship and full-time positions improved, but so has compensation – and the numbers keep going up.
During his time on the board, Seth has garnered support from DRW employees across the firm, including bringing them to Code Platoon's first fundraiser. With support from various donors, including the companies who currently employ graduates of Code Platoon, attendees heard stories of current and former students, and how the 14-week program prepared them for their careers in technology.
Chris, a technology manager at DRW, also attended the fundraiser. With two Code Platoon graduates currently on his team, he enjoyed the chance to connect with other former students, and learn about how they were able to successfully enter the civilian workforce.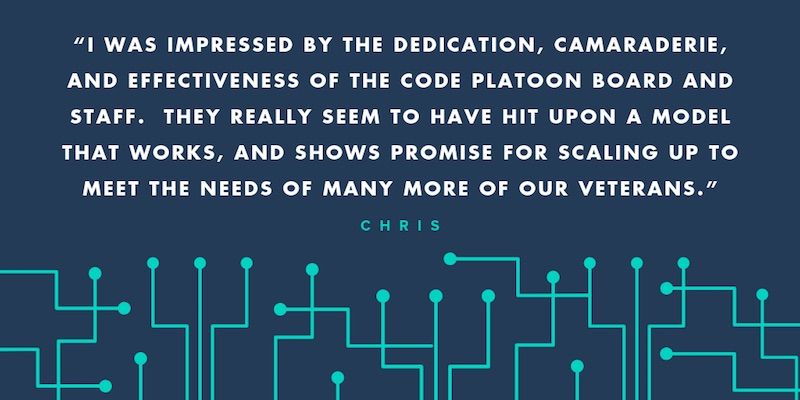 Interested in getting more involved with Code Platoon? Visit their website here.